The Kill Pen: Accusations of abuse and neglect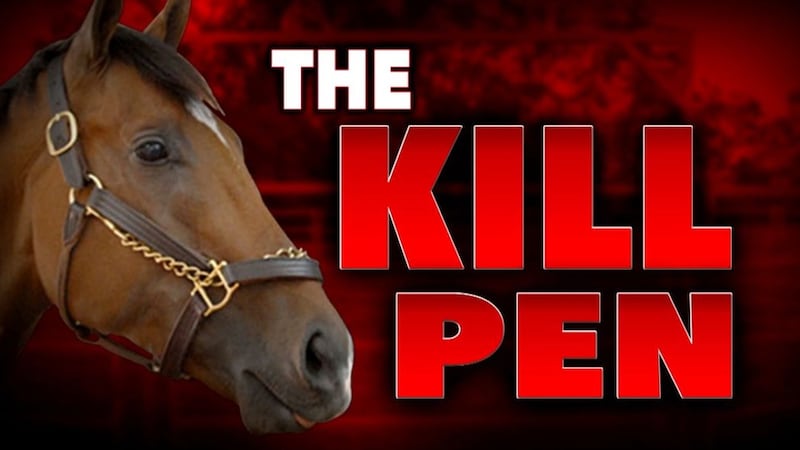 Published: Nov. 16, 2016 at 7:47 PM CST
Horse slaughter is a multi-billion dollar industry, legal in foreign countries but outlawed here in the U.S. Several months ago, we were asked to look into the Stanley family, after several people accused them of abusing horses. Our sources say they're known nationwide as one of the largest shippers of horses to slaughter.
We've done stories on the Stanley family before: Members of their family were accused of cutting a dog's throat, and beating a man in the face. Both alleged incidents happened at the kill pen on Auction Barn Road in Bastrop.
The sound of a bucket of treats can make almost any one of Rachel Ramsey's horses perk its head, but its also her way of getting closer to the two horses she bought from the Bastrop Kill Pen and saved from a grim fate.
"I understand that kill pens exist for a reason, I really do, and I'm not an unreasonable person. They exist because of irresponsible breeding," Ramsey said. "I'm not ever going to say they're going to go away, because these horses have to go somewhere."
Kill pen horses generally go to one of two places: To loving families for a second chance at life, or slaughter houses in Mexico or Canada.
Ramsey had her first encounter with the Bastrop Kill Pen, trying to save a set of horses, but she says things didn't add up when she bought the horses, and had to wait for her husband "Muffin" to pick them up.
"You go into it and think 'We're going to save these horses and be great', and you end up with dead horses, massive vet bills, things that could have been avoided if they had followed what is considered proper normal procedure," Ramsey said.
Ramsey said she received different horses than the ones promised to her. She says she received a horse with the USDA tag 7393, but was told she would receive another horse, which happened to have the same tag as the horse she got, but was found dead on the kill pen floor. She says the tags were switched.
"They pulled the tag off of it, slapped it on another horse, and they were like 'Let's hope they don't notice," Ramsey said.
She says another one of her horses arrived with a massive hole in its head, and later had to be put down. These are just two examples of several years of alleged abuse and neglect accusations, which drew the Animals Angels organization in to take a second look.
"That's usually how it works. We get a phone call, and in this case, we got several phone calls from people living in Bastrop, Louisiana, complaining about injured horses that they witnessed," Sonja Meadows, the Animals Angels President, said.
They looked into it, and here's what they claim they found, documented in a report from 2010. Investigators noted poor conditions, trash around the pens, muddy pens, and a horse with an enlarged, injured knee. The next day, investigators say they followed one of the transport trucks out of Bastrop to the U.S./Mexico border, spending 16 and a half hours on the road with the horses. They say it's five hours longer than the law allows.
The Stanley Brothers trucks have been fined before, as noted in public records from the Federal Motor Carrier Safety Administration, totaling tens of thousands, and possibly hundreds of thousands of dollars over the years, according to Animals Angels.
When investigators say they filed their complaints with Bastrop Police back in 2010, they were told an officer found a dead horse and dead sheep at the pens, but they say no investigation was launched. Later in the report, they claim Bastrop Police told them there had been complaints in the past, but they "...all went nowhere because the Stanley family had money and no one would touch them."
This is a thought echoed by Andrew Payne, the man who was reportedly beaten in the face by one of the Stanley's in an altercation partly captured in cell phone video.
"There's all kinds of horrible stories coming on about them, and I said that can't be true. Turns out, most of it is," Payne said.
Payne said he drove by the kill pen because he heard someone with the USDA was there for an inspection. He says he wasn't on the public road long before he was confronted and hit, breaking his nose and forcing him to go through several surgeries.
When asked, Payne says there needs to be a deeper investigation into the kill pen's operation.
"It's in Bastrop. This is in Bastrop. Are there not enough allegations to warrant them going in and take a look around," Payne asked. "They won't do anything. It makes me very suspicious of the authorities. Right there in town, in their jurisdiction, and they can't even walk in and take a look around."
We went to Bastrop ourselves to check court records, and speak with Bastrop Police, who say they've investigated every complaint they've received. The Assistant Chief of Bastrop Police said since 2012, they've investigated three animal abuse complaints (including the incident involving the dog's throat cut on Snapchat).
While looking into the Stanley Brothers Horse Company, we did find out their business filing with the Secretary of State was revoked back in 2006. We asked around as well, and found out local animal control uses the Stanley's kill pen facility to house abandoned horses, found near Bastrop or in Morehouse Parish. The Animal Control Director said it's because they don't have the space needed to store horses while waiting to find their owners. He insists no money is exchanged for storing the horses, but the Stanley's do it as a favor to the city and parish.
We tried to reach out to the Stanleys and their workers by phone. We were told we had the wrong number by one person, and left messages with others. We also sent an email directly to the email address advertised on the group's Facebook page, which is now called the "Bastrop Louisiana Ship Pen", a business with online dealings and thousands of dollars worth of horse sales a day.
Rachel Ramsey still follows the page, but says she will never buy another kill pen horse.
"It's kind of a vicious cycle, but as long as people are putting money in their pockets, they're not going to stop what they're doing," Ramsey said.
It's not from a lack of heart, but she says based on principle, not giving money to support the business.
We spoke with another woman, who says she's visited the Stanley's property before and found no wrongdoing of any kind. She says she's a vet technician, and routinely rescues horses from the property. She tells KNOE the Stanley family often receives horses in poor condition from auctions and tries to nurse them back to health.
We reached out to state and federal agencies who oversee this type of facility. The USDA says it's a state issue, and the State Department of Ag and Forestry issuing the following statement:
"The Louisiana Department of Agriculture and Forestry does not investigate animal cruelty complaints, as it not under the purview of the agency. Matters of animal cruelty are typically handled by the local sheriff's office. We have received several animal health complaints in regard to Strangles in horses from the Bastrop Kill Pen. Those complaints have been investigated thoroughly, as are all complaints received by the department. There are no current restrictions on the Bastrop Kill Pen."
To take a look at the Animals Angels investigation, we've included a .PDF copy at the top of this article.