'Ask for Angela' campaign helping women who feel uncomfortable at bars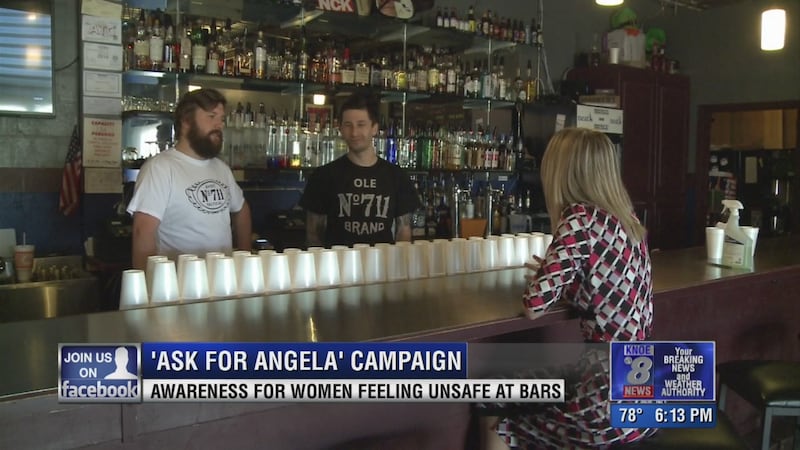 Published: Nov. 3, 2016 at 10:13 PM CDT
From a date gone wrong or an admirer who cannot seem to take a hint, there are several reasons why women can feel uncomfortable at a bar. That's where "Angela" comes in.
The 'Ask for Angela' campaign, which began in England, is making its way to the U.S. It helps women discreetly remove themselves from uncomfortable situations by asking the bartender for "Angela".
The manager of Neat nightclub in Monroe, Joe Summerscales, says he approves of the campaign's message.
"I would definitely start using it everywhere I work," Summerscales says.
The 'Ask for Angela' campaign started as a simple flyer, and it carries an important message for any women who need a helping hand and don't want to say anything.
"I appreciate it as a bartender, but a lot of people don't want to seem rude," says Justin Havard, a bartender at LiveOaks in Monroe.
Summerscales and Havard say as bartenders, their jobs revolve around customer satisfaction and safety.
"Our job as a bartender is to make sure everybody has a great time," Havard says.
They say they see women confronted by unwelcome guests all the time.
"Honestly, it's nightly," Summerscales says.
"Anytime alcohol is involved, stuff gets a little messy," echoes Havard.
Summerscales and Havard say they would like to implement the 'Ask for Angela' campaign locally... but maybe in a different way.
"Maybe since the Angela word is a big thing now, maybe if we put up a different code word like the hippopotamus or something like that. Something funny to get the bartender's attention," says Summerscales.
Lisa Longenbaugh with the Wellspring in Monroe says she's comforted knowing local bartenders are looking out for women.
"It's about awareness, and it really is about cultural change. We want to live in the kind of community that conveys that this is not the kind of thing that we support," says Longenbaugh of sexual assault. "It doesn't matter where you were. It doesn't matter how you were dressed. It doesn't matter that you had a drink."
63% of sexual assaults are not reported. For more information on assistance regarding sexual assault, visit our 'related links' section.