United Way of Northeast Louisiana highlighting the amount of people living paycheck to paycheck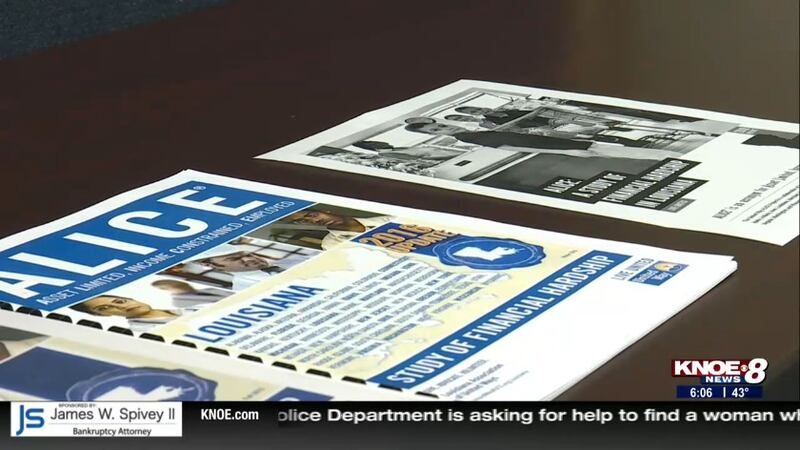 Published: Jan. 15, 2019 at 7:15 PM CST
The United Way of Northeast Louisiana is highlighting the number of people living paycheck to paycheck. Their ALICE Report shows more than half the people in this area are living close to the poverty line.
This group of people is known as "Alice." "People like me, people who are working, but still can't quite meet the financial needs of those and their kids," says Shalandra White. White has a full-time job and says it's still a struggle to make ends meet.
She says a lot of people in this area deal with these issues. "You see it every day," says White. "Sometimes you could be talking to an ALICE and you have no clue."
The United Way's ALICE Report looked at 2016 data and found that 48% of the state is having difficulty paying bills even with a job. "Louisiana has the third highest level of Alices in the country," says Sarah Berthelot, the President of the Louisiana Association of United Ways.
Northeast Louisiana has more people living in the ALICE category than the rest of the state. "Fifty-seven percent of the households in our region are impacted by the Alice Report," says Blake Wheelis, Chairman of the Board for the United Way of Northeast Louisiana. "And those are Asset Limited, Income Constrained but Employed people who still have trouble making a living."
White says people are struggling because the prices of goods and services are increasing fast, but wages are not. "Once you get your raise you think 'hey everything's going to be alright because I'm going to have a little extra,' but things go up," says White. "The more you make, the more things cost. And if you're on any program or funding, you will get cut."
Child care is one of those services that's dramatically increased in price. Berthelot says child care costs more than $1000 a month in Northeast Louisiana, which is more than the state as a whole. "So for a family on a limited income to access that quality," says Berthelot. "They're oftentimes having to choose between quality care and other basic essentials."
For Louisianians in need of help, you can call the United Way's 211 hotline to find services in your area.