ULM opens new food pantry on campus for students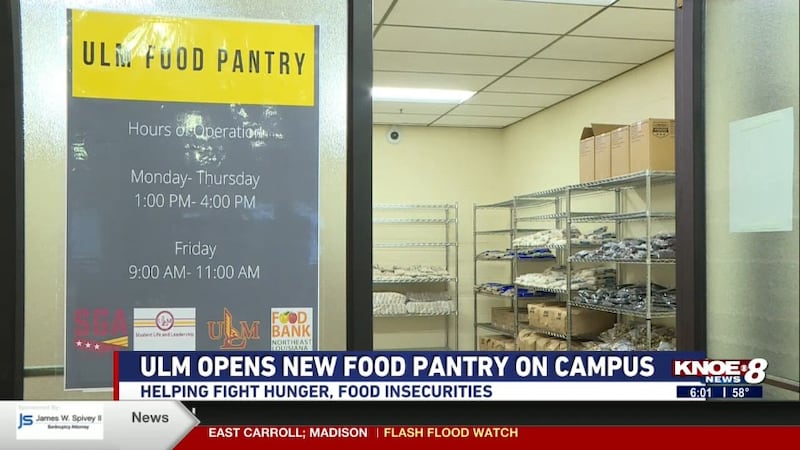 Published: Feb. 18, 2020 at 7:04 PM CST
ULM has opened a new food pantry on campus for its students. Several organizations from the university partnered with the Food Bank of Northeast Louisiana to open it.
The pantry is inside the ULM Activity Center and is a start to fight hunger and food insecurities on campus.
"It's definitely something that was of need on campus," says Brand Bruscato, ULM director of recreational services. After hearing a speech about food insecurities on other college campuses, Bruscato knew it was something he had to help bring to help students here.
"I just don't think any student should ever have to choose between paying bills or eating supper. That's not what they're here for. They're here to learn and to get a degree," Bruscato says.
All ULM students taking at least one credit hour course each semester can apply to come to the food pantry. SGA vice president Gavin Williams says it will be one less worry for many students on campus.
"You always need some food, and that's something we don't want students to have to worry about with finals and the stress that comes with college," Williams says.
SGA president Olivia Bailey says it's also a great resource for any student looking to save money. "It's not only based on need-based," Bailey says. "We know that college can be hard, so it's really a great resource for college students if they're just struggling one time."
"We don't want students to think just because you're struggling, you have to come in here," Williams adds. "If you're trying to save money or just reduce expenses, as a student, you have access to this."
Since Thursday's soft opening, Bruscato says there's been three to 10 students coming in each day. "One of the very first students, the first thing she said to me was, 'This was awesome. I've eaten green beans for six straight days for supper,' and that's why we did it," Bruscato says.
For other students who haven't made their way to the pantry yet, Bruscatto says it is a judge-free zone. "Nobody's going to judge you. Come on. Don't go hungry," Bruscato says. "Come on over here and get some food."
To help support the food pantry, you can donate to the Food Bank of Northeast Louisiana.