GSU students react to on-campus shooting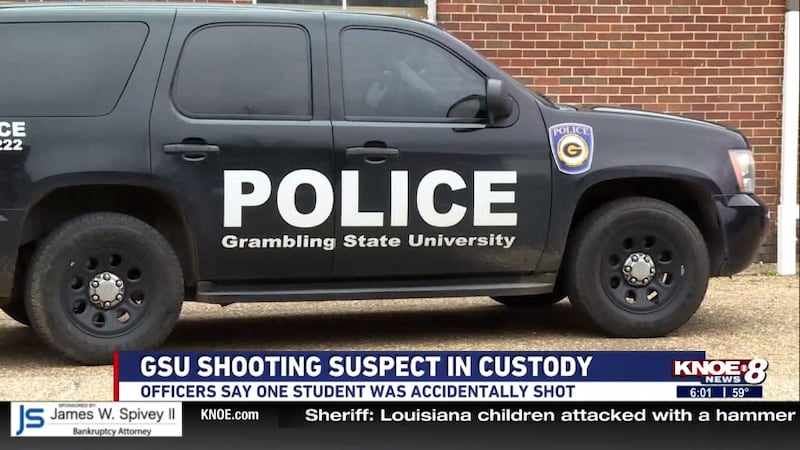 Published: Mar. 7, 2019 at 9:01 PM CST
A Grambling State University student is in the hospital after being shot Thursday morning. Campus officials say the shooting was accidental.
Deputies with Lincoln Parish Sheriff's Office say it happened at the Mary McLeod Bethune dormitory after 8:00 A.M.
GSU President Rick Gallot says the victim and the suspect were friends. He said the gun accidentally discharged.
The suspect is Tyren Abraham. Gallot says the suspect has had run-ins with university police before.
"[He] had previously been arrested by our police department for a weapons charge," Gallot said. "Having a weapon on our campus."
Students say though the shooting was accidental, they are still concerned about safety.
"I don't feel very secure here because the dorms don't ever be locked," one student said.
"I feel like safety can be better in all aspects," another student added.
Though the shooting happened after 8:00 A.M., students were not notified until before 11:00 A.M. Students say the lack of a quick alert worries them. Once the alert came, it did not provide many details for students.
"Gun accident on campus...that's all it says," a student read.
Gallot says the alert did not take priority because the shooting was accidental and isolated.
"All of the guns and stuff on campus. It's not as safe as it should be," one student said. "I stayed in my room. I didn't go to class."
Gallot is encouraging students not to invite outsiders on to campus.
This shooting makes it the third on campus in less than two years. In each case, the suspect was not a student.
Some students say they still feel safe though.
"It's a lot of stuff they do on campus to make sure we're safe as far as checking I.D.s," one student said,
"Police are doing their jobs. It's just students that cause the conflict that causes the trouble," another added.
Gallot says they do not tolerate this behavior on campus. He says they are working with officials to make sure guns are not on campus.
"There's no need for individuals to possess weapons on this campus," Gallot said.
Grambling State University Laboratory High School is across the street from the dormitory where the shooting happened. It was not put on lockdown.