The Grinch is in jail once again!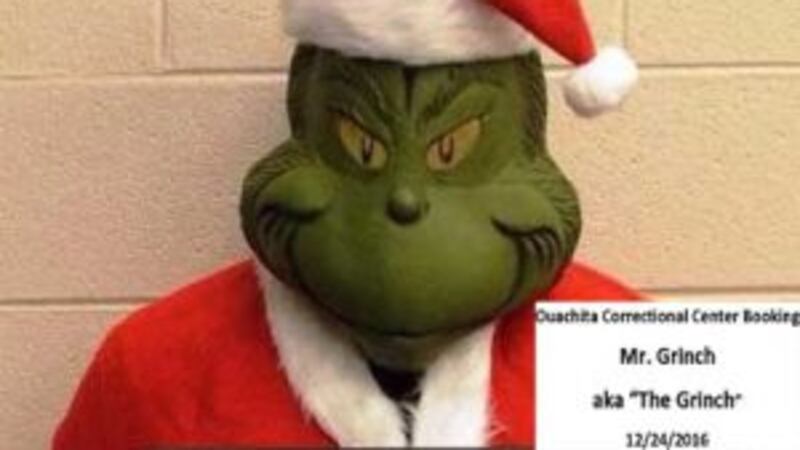 Published: Dec. 24, 2016 at 3:07 PM CST
Children in Ouachita Parish can sleep soundly tonight knowing Christmas is once again safe this year. Ouachita Parish Sheriff Jay Russell issued a press release stating Mr. Grinch has been arrested.
Mr. Grinch, aka The Grinch, a resident of Mount Crumpit near Whoville, is currently being held in OCC.
Sheriff Russell said his department had received reliable information from Cindy Lou of Whoville that Mr. Grinch was hiding in Ouachita Parish and was planning to steal all the Christmas trees, ornaments, decorations and presents that were for Ouachita Parish children.
"We received a tip from Cindy Lou detailing the plans of Mr. Grinch. We immediately set up surveillance and were able to spot his dog, Max, who was traveling on the shoulder of Highway 80 between the Calhoun and Cheniere communities. We caught Max, secretly placed a microphone on his collar, and then let him continue on his way", said Sheriff Russell. "Fortunately, he went straight to Mr. Grinch who was hiding in the woods near Highway 15 in West Ouachita Parish. We knew Mr. Grinch always told his dog everything, so we were able to listen to him tell Max of his plans to ruin Christmas for the children in our parish."
At 5:00 a.m. this morning, with the taped conversation as evidence, Ouachita Deputies moved in to make the arrest. After a short foot chase, Mr. Grinch was caught and arrested.
When Mr. Grinch was told deputies had listened to his conversation with Max, he said "How could it be so? It came without ribbons! It came without tags! It came without packages, boxes or bags!"
"My hope is that all the residents of Ouachita Parish can now relax and have a very Merry Christmas" said Sheriff Russell, as he was booking Mr. Grinch at OCC.
Then Sheriff Russell turned to Mr. Grinch and said "You're a mean one, Mr. Grinch. You really are a heel!"