Pinwheel garden honors Child Abuse Prevention Month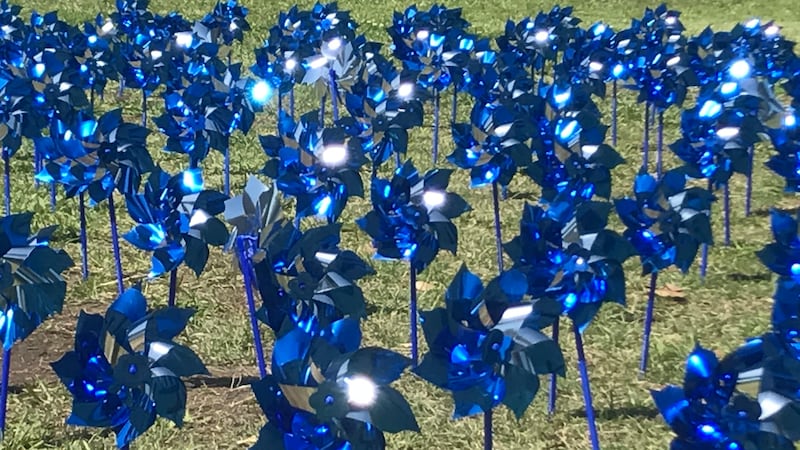 Published: Apr. 17, 2018 at 6:34 PM CDT
People around the country are raising awareness with Child Abuse Prevention month.
A new pinwheel garden was started at ULM on Tuesday to start a conversation.
The pinwheel is a national symbol for happy and healthy kids. As those shiny blue and silver pinwheels spin in the breeze, child abuse prevention advocates say they represent the free lives children should have.
"We plant these huge gardens to raise awareness and attract attention and really get people thinking about the role we all play," Amanda Brunson says.
Brunson is the executive director of Prevent Child Abuse Louisiana. She says everyone can help stop child abuse just by looking for the signs.
"When you think that something's not right and when you have that kind of gut feeling that tells you 'hmm I wonder if this is child abuse' it probably needs to be reported," she advises.
District Attorney Steve Tew says it's an issue that comes across his desk far too often. He says stopping child abuse takes a lot of resources from a lot of different places.
"You look at our specialty courts, our domestic violence courts where children can be victims, our juvenile section where children can be victims, our non-support systems. Failure to support is abuse," Tew explains.
He says prosecuting crime is one thing, but crimes against children is another.
"Any crime is serious, but when a child is the victim of a crime, it's more serious," he says. "I guess it's just that children are defenseless."
Brunson agrees that it's a nationwide issue, and starting a conversation helps.
"Most of the country agrees that child abuse is a big problem and that it is preventable, but yet people don't really understand what they can do about it," she says.
Law enforcement officers are reminding people that everyone has a moral responsibility to report child abuse, so if you see something, say something.