Monroe mailman goes above and beyond to help the community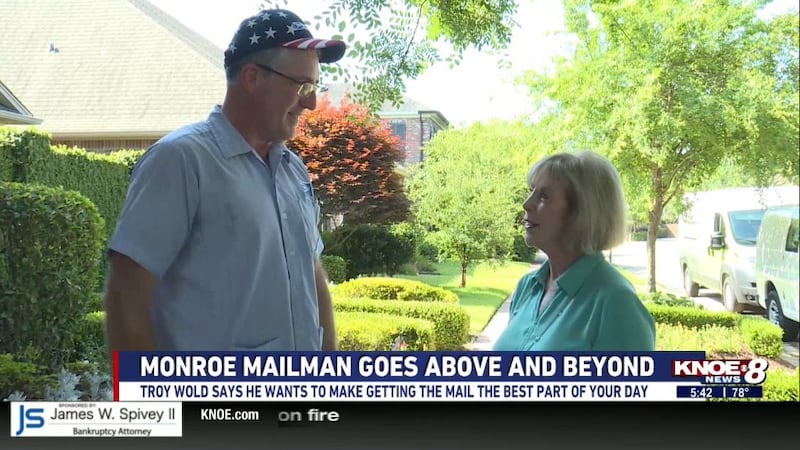 Published: Jul. 19, 2019 at 8:07 AM CDT
Monroe mailman Troy Wold has been working for the United States Postal Service for almost 25 years now.
"One thing about being a mailman, you go through a lot of shoes, and you go through a lot of socks."
Even with the Louisiana heat and over 600 stops a day, he says he wouldn't have it any other way.
"Anybody can just drop mail off, pick it up, and go, and be the mundane part of your day," says Wold. "But I want that little bit - that snippet of your day - to be so good that you look forward to getting the mail the next day."
Wold says he didn't plan on becoming a mailman, but a few people he met in church were mailmen, and he said they told him to take the test. And now, neighbors all around the city of Monroe are glad he did.
"He goes not just above and beyond or the extra mile I mean he gives two hundred percent," says Vici French.
French says she first met Troy Wold about ten years ago. She says he started delivering mail to her office and now he delivers mail to her neighborhood. She says their community even has a fan club for Wold.
And when Wold noticed that their mail would get wet when it rained, French says, "he created these mailbox liners for every single person in this neighborhood."
Troy's wife, Jae, says he spent hours measuring and cutting these mailboxes over weeks. And she says anything he does to help people is all on his own time.
Jae Wold says Troy has saved multiple elderly residents when they fell, and he was the first to arrive. She says in one particular case, Troy would always take an elderly gentleman's newspaper from the end of the driveway to his front door when he delivered mail. He did this every day, except for Sundays when he didn't work.
"Well, one Monday he arrived back on the route to find that that elderly gentleman had hurt himself on Sunday trying to get down the steps to get his newspaper," says Jae. "So from then on, for the next three years until he passed, Troy would, on Sunday morning, get up at 6:45 a.m. and drive across town and put it [the newspaper] on his mailbox, so he never had to step outside again."
Troy says by being a mailman he's part of the community. He says he's attended weddings and funerals, bought baby shower gifts, and even sent Christmas treats to some of his favorite pets on his route.
"This is the most trusted institution in the government, the United States Postal Service, so I don't want to let anyone down so I'm doing my part to provide the very best service I can, however I can, every day."
Jody Burdine says Troy fits that description perfectly. She said when her family member passed away, he took the time to give her a hug. Not only that, but she says he takes up her garbage can every day when he drops off the mail, and he's repainted her mailbox.
Troy's wife says he doesn't just help people as a mailman, but he's given over 60 gallons of blood in his lifetime - making a difference any way he can.