Louisiana students caught hazing on college campuses could now face jail time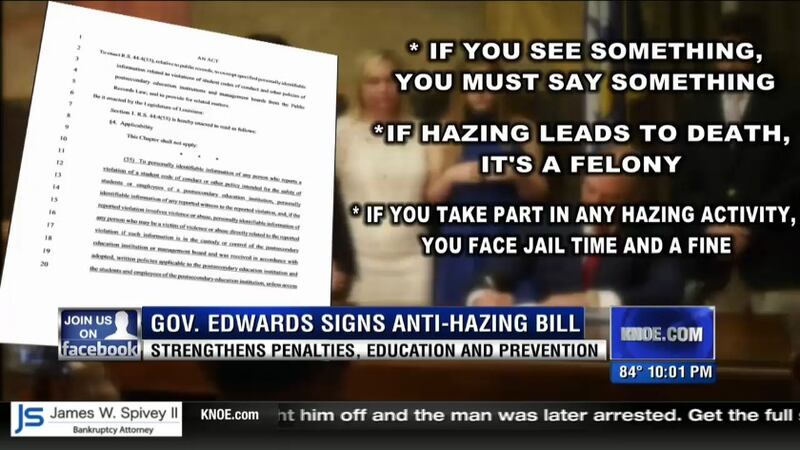 Published: May. 31, 2018 at 11:03 PM CDT
Local school leaders say right now the penalty for hazing is just a slap on the wrist, but new state law says it'll be handcuffed on your wrist if it turns deadly.
"Hazing can affect a student's life by their work performance at school it can affect their personal life," said Brendan Harris who is a member of Phi Beta Sigma Fraternity, Incorporated at ULM.
He said it's a non-hazing organization and is something he doesn't tolerate.
"In the back of your mind, your feelings are going to be hurt; you're going to want to be angry, you're going to want to fight them and do a lot of things. Hazing isn't going to do anything good," Harris said.
Gov. Edwards isn't putting up with it. He signed four bills to help prevent tragedies like that of Max Gruver who died of alcohol poisoning after being hazed by an LSU fraternity.
University leaders at ULM said this sends a clear message.
"Unfortunately, it takes something like that to wake everybody up and one death is too many. We don't want that to happen here. And, that's the point we want to make to our students--you're too important to us," Camile Currier, Vice President of Student Affairs, said
They're working on a new policy handbook that would mirror these new penalties like; if you see something, you must say something, if hazing leads to death, it's a felony, and if you take part in any hazing activity, you face jail time and a fine.
"It puts responsibility back on the students and I think that's good. We're not dealing with young children here. We're dealing with young adults, they know right from wrong," Currier said.
Plus, students like Harris at ULM must sign contracts saying they understand these new laws.
He said all this is a step in the right direction.
"Everything eventually isn't going to come out that happens, so it's just best to avoid it at all costs."
Each of those bills passed without much opposition.
The laws will take effect next spring.