Lawyers not happy after Winnfield police officer accused of excessive force cleared of any wrong doing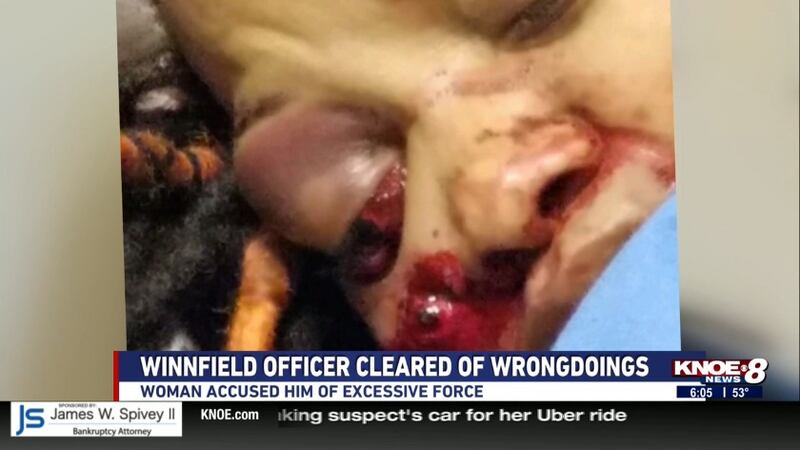 Published: Apr. 1, 2019 at 7:24 PM CDT
For the past four months, Officer Justin Curry was accused of excessive force and sending Tanisha White to the hospital with severe injuries.
But, the Winn Parish District Attorney cleared him of any criminal action.
White's lawyers said it isn't right.
"No matter what they say, we got to answer that question, and that question has to be answered in the court of law. Why did this individual suffer so much damage that she would lose sight in an eye and no arrest was made," Dedrick Moore, one of White's lawyers, said.
According to the DA's report, residents at a home on Pineville Street called police after White refused to leave. It also shows Officer Curry tried to arrest her, but she swung at him.
That's when the report says he pushed her to the ground and she fell chest first on the concrete driveway. She got up and accused him of punching her in the eye and came at him again. That's when he pepper sprayed her, she fell on the driveway again, and was handcuffed.
In the report, doctors say her injuries were consistent with a fall.
"She's hurt and devastated by the news that there won't be any negative action taken on the officer that caused her to be blind in one eye," Ronald Haley, one of White's lawyers, said.
The Winnfield Police Chief said Curry used proper protocol.
"He's been a very upstanding officer at this point, and based on the report, based on the officer's conduct, he did everything and executed in order to protect the property and safety of the ones he was called to," Chief Johnny Ray Carpenter said.
Curry did have a body camera on at the time, but state police said no video was recorded. According to the chief, it was due to old equipment.
He said Curry will rejoin the force if city council approves his request. The council also approved new body cams after this incident hoping to avoid future accusations.
"I just hate that all this happened and we continue to pray for her to continue to get well and we move forward," he said.
This isn't over for White and her attorneys. They said they're still going after a civil suit against the police department.
The DA's full report is attached to the top right of this story.