La. Tech students stand behind professor removed from courses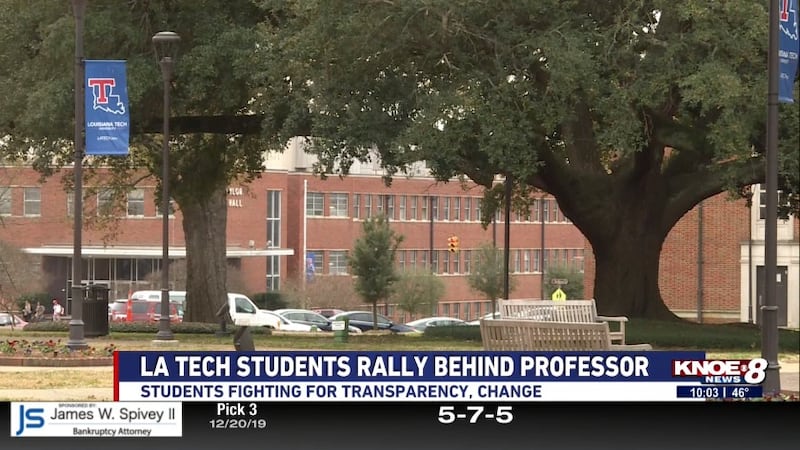 Published: Dec. 20, 2019 at 11:27 PM CST
Students and faculty members at Louisiana Tech University are rallying behind a professor after they say he was wrongfully removed from his courses.
Many took to Twitter last week to express their concerns regarding the removal and show their support for History professor Michael Savage.
In a letter sent from the Dean of the College of Liberal Arts, it states allegations of lectures not appropriate in terms of the subject matter presented in Savage's HIST 102: "World History Since 1500" classes.
According to that letter, student complaints were documented from Savage's course last quarter and this current winter quarter.
According to students, the topic at hand for the current quarter was a lesson asking students in the class to describe their racial backgrounds as it relates to living in America.
According to that same letter, the Dean said that he heard African American students were "targeted" while "creating a hostile and intimidating environment."
The letter continues saying that Savage would immediately be reassigned from his two HIST 102 classes to other departmental responsibilities.
This letter was issued on Dec. 6 just two days after the start of the winter quarter on Dec. 4. Some students say they feel as though this decision was made without full consideration.
"The department that's full of experts in this field had no say on the matter to determine whether the subject material that Professor Savage was teaching was relevant to the topic," said Dianna Able, an LA Tech student and organizer.
Able took one of Savage's courses last quarter and said she and many other students felt left in the dark. Now they're demanding transparency.
"Everyone knows what's happening, so what we're doing is stuff like this," said Ezra Scherrer, an LA Tech student and organizer.
Since the week of Dec. 11, students have started a coalition, scheduled meetings with other faculty members, met with the Student Government Association and created a petition.
gained over 1,500 signatures within 24 hours and ended with a grand total of 1,704 signatures.
"The next thing that we want to do is start promoting some of the changes we want to see happen," said Collin Hales, a LA Tech student and organizer.
Students also created a list of demands including:
1. A public apology from the university to professor Savage
2. Academic freedom policy
3. Due process
4. More transparency from the administration
5. A formal complaint process
6. Faculty unionization
KNOE reached out the university on Dec. 13, they said in a statement,
"Louisiana Tech University is obligated to ensure that each student feels safe in the living and learning environment. We take student concerns seriously at the same time that we work to protect the individual right to free speech. Fortunately, in this instance, we were able to work toward a resolution that ensured this instructor remained in the classroom and that our students' concerns for safety were heard."
Students said this is the beginning of their fight for change and they want Tech to be a better place.
"Just like their statement said, we want to make Tech a safer place for all students. Where we can support our educational rights," Able said.
Additionally, the Dean proposed Savage can continue to teach his HIST 408: Hitler's Germany for the remainder of the quarter and have his pay reduced to $5200. It also states that the Dean is proposing to completely terminate Savage's appointment with the University at the end of the winter quarter in March.