Horrific details revealed in case of 5 people accused of physically, sexually abusing young Louisiana girl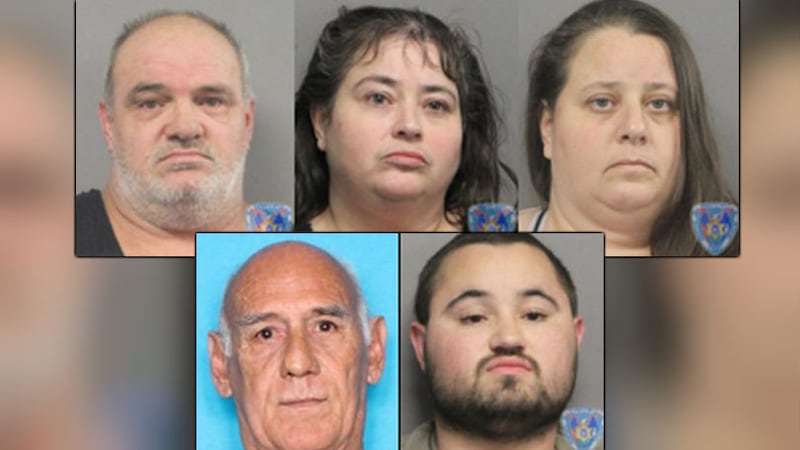 Published: Apr. 23, 2019 at 5:37 PM CDT
Horrific details emerged Tuesday in the case of five people accused of sexually and physically abusing a little girl in Jefferson Parish. The victim is now 12.
Tilman Carolise, Harrington Matherne and Farrel Tregre are accused of raping the young girl at a home in the 500 block of Fairmont Street in Harvey while Tina and Terri Tregre acted as lookouts.
The sexual abuse reportedly started when the victim was 4 and continued for years. Tuesday, during a preliminary hearing, the lead detective on the case testified that the victim disclosed that Carolise raped and beat her repeatedly, withheld food and water from her, cut her and even made her sleep in a dog kennel.
The detective also testified that on one occasion, Carolise told the victim they were going on a fishing trip but once they got to a wooded area, he allegedly bound her feet and hands to a tree and raped her. He's also charged with threatening to shoot her if she ever told anyone about the abuse.
Both Tina and Terri Tregre are also accused of beating the victim and standing in front of the bedroom door while the little girl was being raped to prevent anyone from coming in. The detective says Terri Tregre even pushed the victim back into the bedroom when she tried to leave.
The victim also disclosed to authorities that she was often raped by Carolise, Matherne and Farrel Tregre on the same days, and that Farrel Tregre would apologize, cry and ask for forgiveness after he raped her, telling the victim he was just doing what he had to do.
The lead detective says the victim made the initial report of abuse in Biloxi, Miss., at a mental health care facility after engaging in self-harm. The case was then referred to the Jefferson Parish Sheriff's Office after it was discovered the abuse allegedly happened in Harvey.
According to the detective, the victim's younger brother also disclosed that he had been beaten with a baseball bat.
Copyright 2019 WVUE. All rights reserved.