Dubach holds Reboot retreat for veterans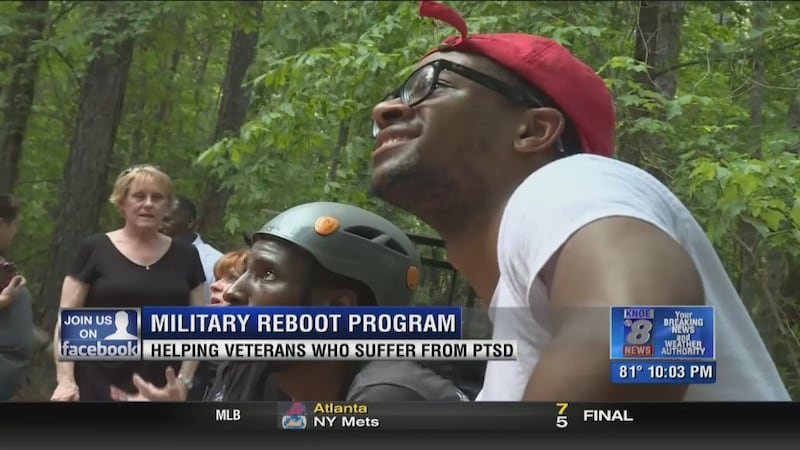 Published: Apr. 29, 2017 at 10:50 PM CDT
A week-long release for these service men and women, who were climbing, swinging and petting to ease the symptoms of PTSD.
"I can't think of anything else that I can do that is so gratifying," Johnny Urrutia said. "I'm more than just honored to know that we can make a difference in the world, starting with these guys and gals."
Urrutia started this program, called "Reboot", in New Hampshire. After a conversation with the Outdoor Wilderness and Learning Center, he brought the program to Dubach.
As a veteran himself, he says it's an opportunity to help his brothers in arms.
"I realized that I can help soldiers," Urrutia said. "And I started helping some on my own directly. And I realized how much I can change them and help them."
Help people like Michael Powell - a navy veteran who served in operations Iraqi Freedom and Enduring Freedom. After coming home to Columbus, Ohio, he left again, for Northeast Louisiana.
"I was really skeptical about coming down here," navy veteran Michael Powell said. "I don't know anybody around here. But, I pulled my big boy pants on and came down here, and it was a great experience."
And, these vets aren't just climbing physical hurdles. Brainwave therapy and eye movement desensitization and reprocessing therapy helps the mind just as much as the body.
"These young kids and these young troops put their life on the line for us," Dr. Arnold Popky said. "And they deserve to have the best when they come home."
And at least for this week, they do.