December marks the 10th year since International Paper closed its doors in Bastrop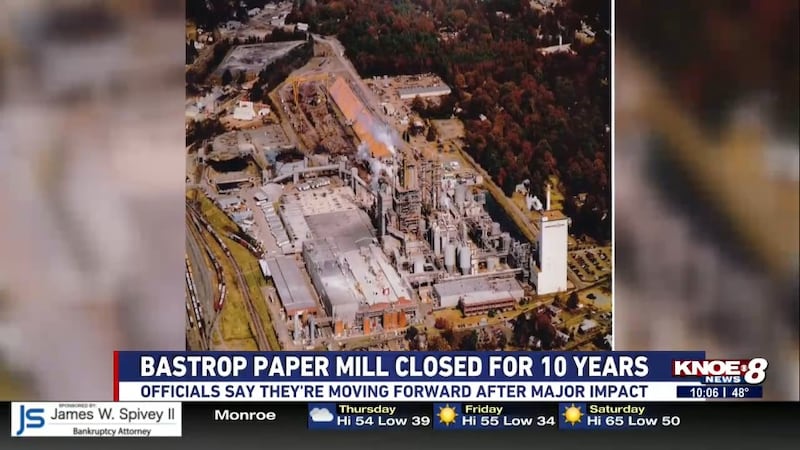 Published: Dec. 21, 2018 at 12:04 AM CST
Ten years ago, Carlton Banner was bringing in the big bucks with the help of a major money maker right in the heart of Bastrop. The International Paper Mill was more than 100 years old.
"It was alright. I enjoyed it myself," Banner said.
The mill brought in a lot of money and jobs to people like Banner, who worked nearly 35 years. All of a sudden in December 2008 the mill closed leaving hundreds without a job.
"It had been a long time since I've seen a man cry, but I actually saw real tears falling from their faces," Banner said.
Employees weren't the only ones who fell victim to the closure.
The mayor at the time, Clarence Hawkins said it effected the economy, education, and the population.
"That was the industry that was viable and no one had any reason to believe there was anything else. We use to talk about diversifying the economy, most communities do, but that was the horse we rode to get here," Hawkins said.
Hawkins left Bastrop after the plant closed to work for the USDA.
The new mayor, Henry Cotton said the city will make a comeback.
"We've had the fallout from the loss of I.P. and I think we're down where we needed to be to come up. Naturally we have to redefine ourselves," Cotton said.
He's talked about building the town around more business and technology and keeping people around.
Now that Hawkins moved back to Bastrop, he's working with Cotton to initiate new programs.
"I'm aware that there are programs available and that can help people believe make the contacts to the services I think they need to enjoy this American Dream," Hawkins said.
They're working on a housing project that's federally funded and will bring in new tax money.
"It sets a tone that Bastrop is not dead. That right now we have another developer developing 38 homes within a 1/4 of a mile. And it's 38 homes. Fabulous homes," Cotton said.
They want to bring hope to a town that was nearly hopeless. The project is only one way to move the city forward. Cotton said they're not looking to bring in another plant. Rather, he wants to see more technology and local business to grow.