Concerns about election security rising in Louisiana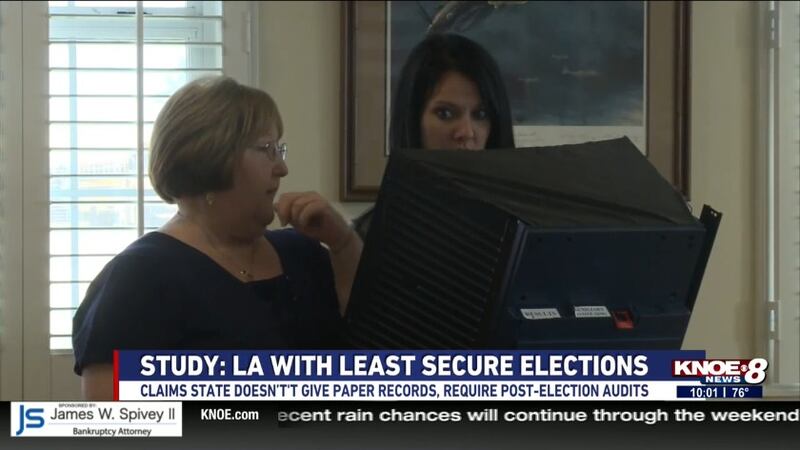 Published: Aug. 9, 2018 at 11:04 PM CDT
When it comes to voting, everyone wants to make sure theirs count. Especially those wanting your vote like Rep. Marcus Hunter (D).
"As a candidate, I always believe that having quality elections process and quality machine's is a good thing," Hunter said.
During election season, security has been a big topic of conversation this year. With old voting machines still in use across Louisiana, some say concerns about election security are valid.
Here at home, Hunter said Louisiana runs a tight ship.
"The fact that we have gone to electronic tabulation has cut down on a lot of the fraud; however, anything we work with can lead with manipulation," Hunter said.
In a new study by Democrats on the House Administration Committee, Louisiana has some of the least secure votings in the country.
It claims the state is one of five that votes exclusively on machines that don't give paper records. It also said the state does not require post-election audits.
The Ouachita Parish Clerk of Courts said she disagrees; she said they could do some of those things if they need to. Though, they both agree it doesn't happen automatically.
That said, the clerk is confident in election security here.
"We do require that we have an I.D., most of the states don't require that," Louise Bond, Clerk of Court, said. "And, with our new machines in the back that calculates and gets the results we put those in the computers, and it goes to the secretary of state's office, so nobody can go in and tap through that."
Hunter said he has concerns about hackers, too. But, there are ways to test machines for stress and invasion, but he says things can still happen.
"They create a particular software, and as with any software, like an iPhone, you can find a way to unlock it until someone closes that particular hole. I'm hoping that this is not the case in that particular situation and as of right now, we don't have any existences or instances of that occurring at this time," Hunter said.
The Secretary of State's office responded to this study as well, saying the 2016 elections ran smoothly. Though, the state is spending millions of dollars as we speak to upgrade election infrastructure.
It won't be ready until at least 2020.