Family of Ronnie Caldwell Jr. files wrongful death lawsuit against Northwestern State, apartment complex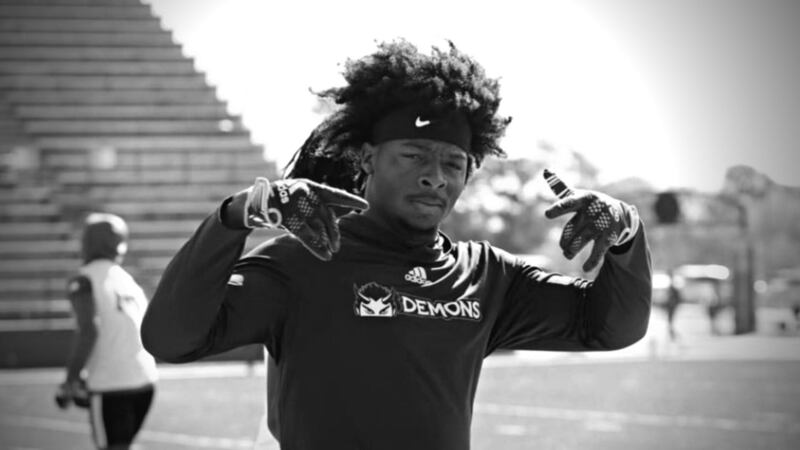 Published: Nov. 4, 2023 at 12:47 PM CDT
|
Updated: Nov. 4, 2023 at 12:52 PM CDT
ALEXANDRIA, La. (KALB) - The family of Ronnie Caldwell Jr., the Northwestern State University football player that was shot and killed at his apartment near campus on October 12, has filed a wrongful death lawsuit against the Board of Supervisors at Northwestern State University, former NSU football coach Brad Laird and the Quad Apartment Complex through its owner, Campus Advantage Inc., and its insurance company, XYZ Insurance Company.
The lawsuit, filed in the U.S. District Court for the Western District of Louisiana in Alexandria, claims that Northwestern State University and Coach Laird "failed" to protect Caldwell and that the Quad Apartment Complex on University Parkway in Natchitoches did not maintain a safe living condition.
In the complaint, Caldwell's family writes that while Caldwell, a student athlete at Northwestern State, lived off campus, his roommate was a member of the football team. The family claims that after mold was discovered in the apartment, Caldwell and his roommate were relocated to a new apartment within the Quad Apartment Complex.
The complaint states that the apartment complex placed Caldwell with a new roommate who was not a student at Northwestern State University, but states that "Ronnie and his new roommate were not a good match. During their short time period living together, they had a series of verbal altercations."
The family claims that on Oct. 9, the verbal altercations escalated and stated, "Ronnie's new roommate pulled a gun on him during the altercation."
The complaint states that Caldwell called to tell his father, Ronald Caldwell Sr., about the incident and that Caldwell Sr. texted Coach Laird, "alerting him that he needed help." The family complaint said that Laird replied with a phone call telling Caldwell Sr. that he would "take expedient action and move Ronnie to a safe location immediately."
Three days later, Caldwell Jr. was still living in the same apartment when he was shot and killed.
"Instead of listening to and heeding Ronnie's cries for help to move away from his violent roommate, NSU and Coach Laird failed one of its students and star athletes. Ultimately, their failure cost Ronnie his life."
One day following Caldwell Jr.'s murder, Natchitoches Police arrested his roommate, John McIntosh, 27, for possession of a firearm in the presence of a controlled dangerous substance. Police have yet to confirm if McIntosh's arrest is in connection to Caldwell Jr.'s death. KALB learned from police that McIntosh was previously arrested nine years prior for attempted second degree murder.
RELATED STORY: Police arrest NSU student in Ronnie Caldwell homicide case
Police have not charged anyone for the shooting of Caldwell Jr.
In the complaint, the lawsuit states that Campus Advantage Inc. "had a duty to warn or to make safe any hidden dangers and a duty not to cause injury through gross negligence by tolerating frequent violent criminal activity." The complaint also states that the apartment failed to engage in reasonable security measures to prevent crime from occurring inside the Quad Apartment Complex.
According to the lawsuit, at the time of Caldwell Jr.'s death, "The entry gate was broken and not monitored, and there were no security guards on the premises."
"Because of the known prior criminal history afoot at the Quad Apartment Complex, Ronnie Caldwell Jr.'s death was a foreseeable act."
The parents of Caldwell Jr. are seeking damages, including funeral expenses and are requesting a trial by jury.
Caldwell Jr.'s family is represented by Daniel Williams & Associates and the Cox Pradia Law Firm.
Here is the full lawsuit:
Click here to report a typo. Please provide the title of the article in your email.
Copyright 2023 KALB. All rights reserved.