Drought Continues to Expand Across ArkLaMiss
By Chief Meteorologist Marcus Walter
Published: Nov. 2, 2023 at 5:04 PM CDT
MONROE, La. (KNOE) - The latest U.S. Drought Monitor was issued today and it shows that "extreme" and "exceptional" drought continue to expand across the ArkLaMiss. Much of north Louisiana is under either an "extreme" or "exceptional" drought. "Dry", "moderate", and "severe" drought conditions cover parts of south Arkansas as well. As of now, there is very little relief insight, with dry and warm weather on the way through the coming weekend into next week.
So far this year, Monroe has received 34.58 inches of precipitation. In a normal year by the date of this writing, Monroe would have received 46.00 inches of precipitation, meaning there is a precipitation deficit of 11.42 inches.
Long-term relief may be on the way. According to the latest Climate Prediction Center seasonal forecast, there is a likelihood for above normal precipitation this Winter for the southern United States.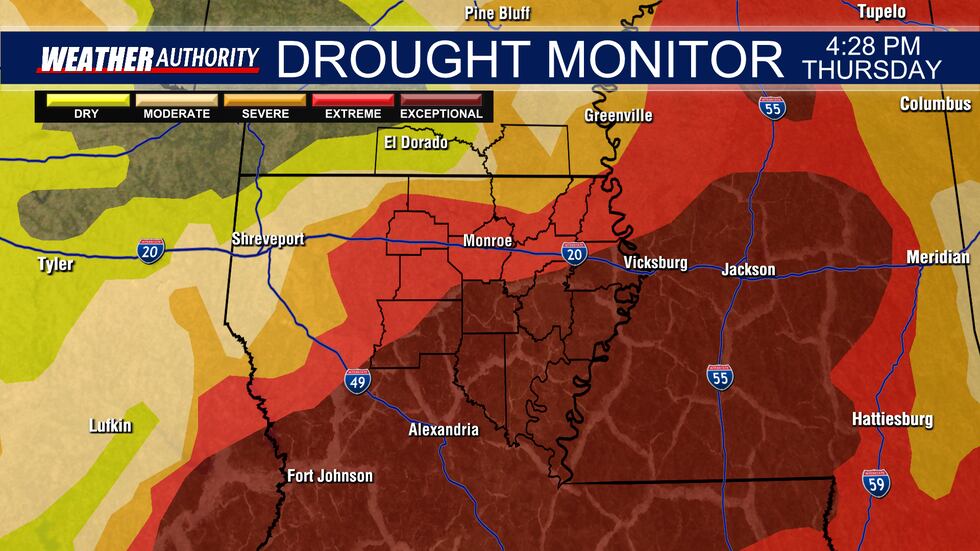 Copyright 2023 KNOE. All rights reserved.