14-year-old boy restrained, stripped naked from the waist down in high school locker room video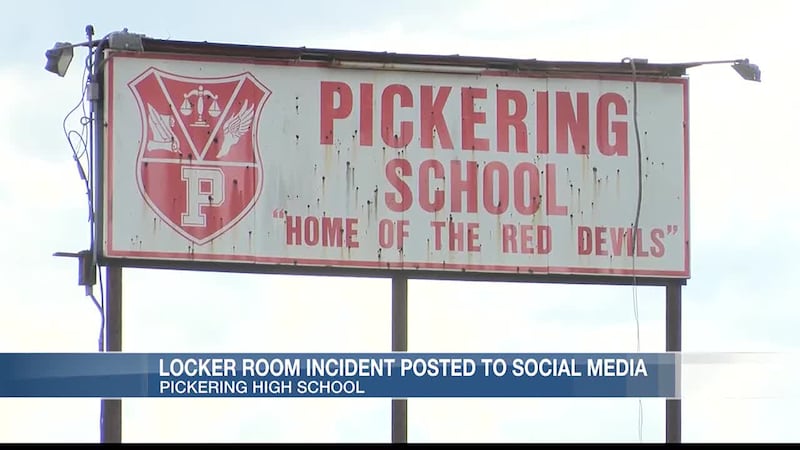 Published: Oct. 23, 2023 at 8:20 PM CDT
Pickering, La. (KPLC) - Was it a case of 'boys being boys' taken too far? It's an incident caught on camera in the boys locker room at Pickering High School earlier this month that now has the victim's mother speaking out.
The last thing any parent wants to see is a video of their child being violated.
"As a mother, as a parent, you don't want your child to ever be put in a situation like that," the victim's mother said. "For some, it may appear as horseplay, but for me it's horseplay until it's not."
We're not going to share any part of that video as it involves children. However, we can tell you that a 14-year-old boy was stripped naked from the waist down by a group of students.
"He's saying 'chill, chill. You are all being weird. You're being weird,'" his mom said.
In the video first posted to the social media app Snapchat, you can hear the 14-year-old asking the boys to 'chill' as he's held on the ground trying to keep himself covered.
"That's very disheartening for parents," his mom said. "We want to know our kids are safe. we want to know that if something's going on."
The boy's mom, wanting to remain anonymous, is now speaking out because she believes the incident was downplayed by school officials and investigators.
It wasn't until a student sent her the video that she realized it was much worse than what she was initially told, that her son had been "pantsed".
"Society's going to look at how did the situation get handled, was it conducted properly?" she said. "Were the parents notified? Was there a newsletter sent out to say hey inappropriate graphic material may be on some social apps and make sure your kids, make sure they're not distributing information?"
7NEWS spoke with the school principal who told us the incident is being looked into and that disciplinary action has been taken.
The boy's mom believes this incident is beyond the kids who violated her son. It's a systematic problem and she said she wants to see more adults take accountability.
"I've had some people reach out to me and they stated that when they played sports things like that did happen in the locker room and because they were males, they didn't speak on it," she said. "It's just locker room behavior, but it's different when you have a son or a daughter become a victim of something like this. it's alarming."
The Vernon Parish Sheriff's Office said they are in the process of investigating this incident.
Copyright 2023 KPLC. All rights reserved.