Middle school teacher accused of strangling student in Jefferson Parish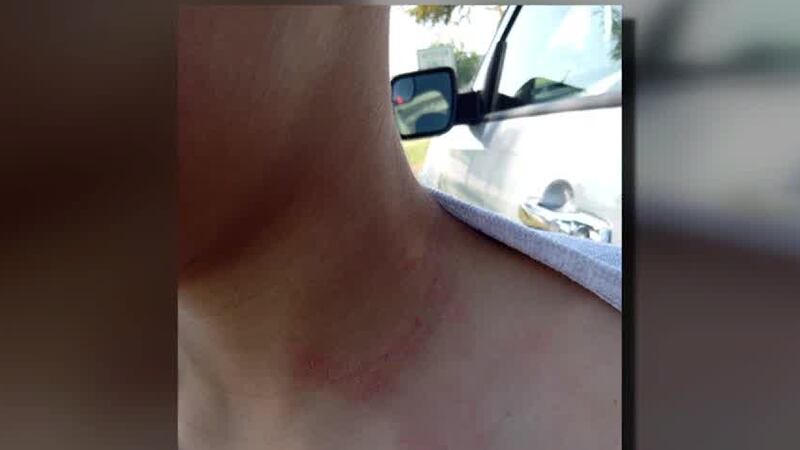 Published: Oct. 20, 2023 at 4:40 PM CDT
METAIRIE, La. (WVUE) - The Jefferson Parish Sheriff's Office is investigating allegations that an Adams Middle School teacher strangled a sixth grader on Oct. 17.
Haydi Moradel Castro said she filed the report with police soon after she picked up her son, Darwin Sabillon Maradel, early from school Tuesday morning.
"I told my mom I don't want to go back to school because I'm scared to go back," Sabillon Maradel said.
The 11-year-old boy has stayed home since Tuesday after he and his mother say bruises were all over his neck and lower jaw when he was checked out of school.
Sabillon Maradel says during gym class that morning, he and his friend group were playing too rough, and their teacher told them to stop and do push-ups. That's when Sabillon Maradel says he insulted the teacher.
"I called the teacher a very bad word," he said. "The teacher came at me mad. He ran up to me and grabbed me by my neck. And strangled me while holding me in the air."
Sabillon Maradel says the teacher brought him to the front office and a staff member called his mom to come and pick him up. Moradel Castro says they did not tell her any details about why she needed to go to the school.
She said her son waited in the office for about two hours until she had time to check him out of school, and only then did she notice the bruises.
"They didn't say anything. Nothing. Not the teacher. Not an administrator," Moradel Castro said.
Jefferson Parish Schools released a statement, saying an employee is on leave while an investigation is underway:
We are aware of an incident that occurred on October 17 on the campus of Adams Middle School between an employee and a student. In Jefferson Parish Schools, we are committed to providing a safe and nurturing environment for students to learn. The employee has been placed on leave pending an investigation. Disciplinary measures will be taken as deemed appropriate upon the conclusion of the investigation.
Moradel Castro says she wants to see immediate action and changes,
"What if he does it again and puts his hands on another student? He can't be allowed to teach classes again at that school," she said.
She also says she is waiting to see if the school district will approve a school transfer for her son.
"I just want to learn. I shouldn't be saying mean things to the teachers but teachers also should not be hitting the kids," Sabillon Maradel said.
See a spelling or grammar error in our story? Click Here to report it. Please include the headline.
Subscribe to the Fox 8 YouTube channel.
Copyright 2023 WVUE. All rights reserved.