Louisiana Tech faculty and staff honored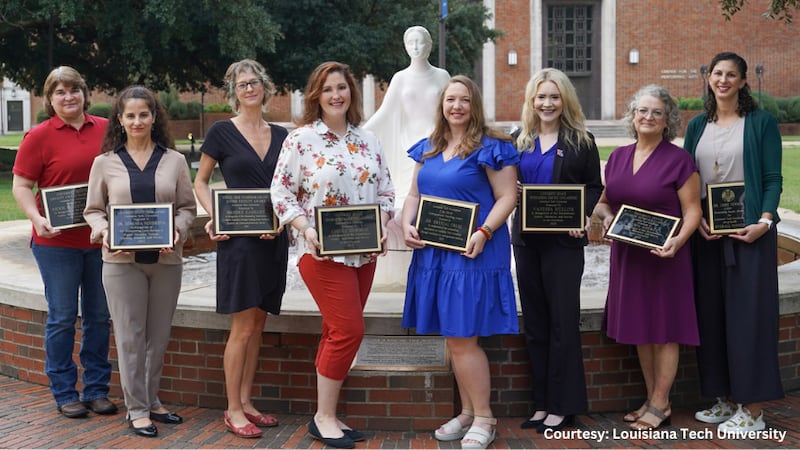 Published: Oct. 2, 2023 at 2:51 PM CDT
MONROE, La. (KNOE) - Louisiana Tech University awarded 10 faculty and staff members the University Senate Award at its 2023 Fall Faculty Saff Meeting in Howard Auditorium.
"Congratulations to these hardworking, ever-loyal Tech faculty and staff," said Provost and Executive Vice President Dr. Terry McConathy. "I am excited that we celebrate and recognize members of the Tech family who are so committed and focused on success in all the areas across campus. These recipients demonstrate how the Tech Tenets are at the heart how and why we come to work each day to support the faculty, staff, students, and community."
The following is a list of the award recipients:
Virgil Orr Junior Faculty Award

Brooke Cassady, Assistant Professor, School of Design

University Senate Chair Award

Dr. Gergana Nestorova, Associate Professor, School of Biological Sciences

F. Jay Taylor Undergraduate Teaching Award

Dr. Krystal Cruse, Assistant Professor, Mechanical Engineering

Outstanding Advisor

Dr. Jamie Newman, Professor, School of Biological Sciences

Loyalty Award - Unclassified

Emily Poole Cash, Campus Experience Coordinator, Recruitment & Admissions

Loyalty Award – Classified

Nickie Blackwelder, Library Specialist, Cataloging

Student Outreach – Unclassified

Ashley Osborne, Project Based Learning Specialist, College of Engineering & Science

Student Outreach - Classified

Robin Goertz, Library Specialist, Research Services

Outstanding Service - Unclassified

Vanessa Mullins, Training & Development Manager, Office of Human Resources

Outstanding Service - Classified

Desirée Brodeen, Administrative Assistant 5, Office of the Dean, College of Engineering & Sciences
To find out more information about the University Senate Award, visit Louisiana Tech's website.
Copyright 2023 KNOE. All rights reserved.