RACE FOR GOVERNOR: Wilson, Waguespack face off on debate stage in New Orleans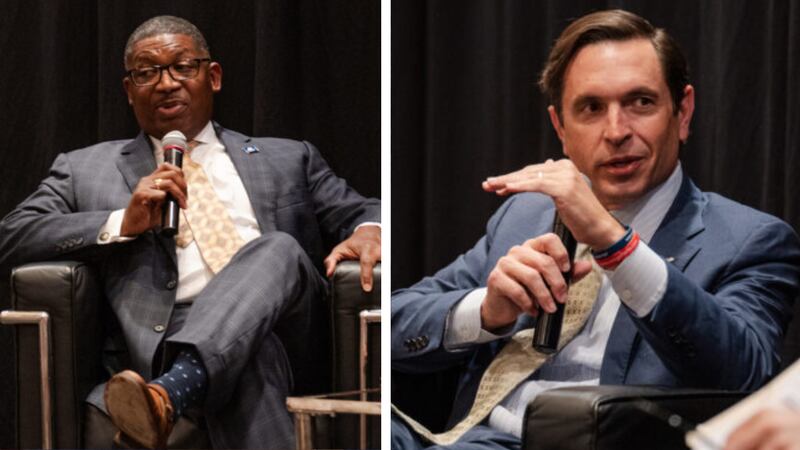 Published: Sep. 26, 2023 at 1:16 PM CDT
|
Updated: Sep. 27, 2023 at 9:28 AM CDT
NEW ORLEANS, La. (KNOE) - With the primary election just around the corner, two candidates in the race for Louisiana's governor took the stage in a statewide Gray TV debate.
Transportation Secretary Dr. Shawn Wilson, a Democrat, and Stephen Waguespack, a Republican and president of one of the state's most influential business groups, faced off Tuesday, Sept. 26 from 7 to 8 p.m. at the University of New Orleans.
In a recent Gray TV poll of 625 registered Louisiana voters, respondents highlighted the economy, crime, and healthcare as the top issues of concern.
Wilson and Waguespack both offered voters their visions for Louisiana's future, emphasizing the need to grow the state's economy and population, rein in violent crime and tackle the insurance crisis head-on. Neither was ready to endorse the legalization of recreational marijuana use in the state, nor call for a convention to rewrite the state's constitution to better protect higher education and healthcare departments often made the first target of legislative budget cuts.
Under questioning from Fox 8 anchor and debate moderator John Snell, and television journalists from Gray TV stations around the state (Greg Meriwether of WAFB, Domonique Benn of KSLA, Jillian Corder of KPLC and Alena Noakes of KALB), the candidates remained civil and direct. They focused mainly on how they would elevate what each described as a declining Louisiana during their 60 minutes on stage.
"We are losing more of our people every single year, losing our best and brightest," Waguespack said. "When they leave for a job to Texas or someplace else, they fall in love with the quality of life in these other places. We've got work to do to compete in the modern economy."
Wilson agreed, saying, "We've seen people leave Louisiana, and they're leaving for wages. They're burdened with student debt and we haven't created the wage environment where they can be successful. They want to be safe in their communities and raise their children in an education system where they don't have to pay for private school."
To qualify for the debate, candidates needed to register 5% or higher in the Gray-commissioned poll. Only Landry, Wilson, and Waguespack met the criteria.
Republican frontrunner, Attorney General Jeff Landry, declined an invitation to participate in the debate.
"You have to take note that the top law enforcement officer in the state isn't here," Wilson jabbed in response to a question about crime in the state. "He's absent from the job and he's absent here tonight. The first part of the job is showing up."
Waguespack also criticized the absent frontrunner.
"Shawn is a very nice person, a friend of mine," Waguespack said. "But if you vote for Shawn to go into a runoff, you're basically voting for Jeff Landry, because he won't be able to beat him. If you're a Republican, you should vote for me because you were robbed of the debate you wanted."
Landry, who appeared Tuesday afternoon at a private campaign event in Gretna, told Fox 8, "To me, the most important thing right now is to meet voters. They're the ones that are actually going to be going to the polls. Doing things like we're doing right now: Having interactions with voters, with elected officials."
Fox 8 political analyst, Mike Sherman, calls Landry's decision to not participate in the debate "disappointing." He says it's not surprising, since Landry has a dominant lead in all of the polls and there's no "strategic advantage" for him to take part in the debate and risk making a gaffe that could hurt his campaign.
The starkest difference staked out between Wilson and Waguespack during Tuesday night's debate came on the topic of abortion.
Wilson said he trusted women and their doctors more than a sitting governor or legislature to make personal healthcare decisions, and that he believed Louisiana's restrictive abortion measures should make exceptions for rape, incest and even other situations in which "doctors know best."
Waguespack said he was "a pro-life candidate" who supports the state abortion laws currently in place, adding, "I think every life deserves a chance."
The candidates also differed when asked whether they would roll back or expand upon the criminal justice reforms championed by two-term outgoing Gov. John Bel Edwards, which have included shortening sentences for some offenses to reduce Louisiana's prison population.
Waguespack said the reforms have "been a mixed bag" that has played a part in a "crime epidemic" in the state. Wilson acknowledged that "we have an issue with violent offenders," but that some of the Edwards reforms still need "an opportunity to work."
The debate was broadcast across the state, airing on the top television stations in each market: WAFB in Baton Rouge, KSLA in Shreveport, KNOE in Monroe, KPLC in Lake Charles, KALB in Alexandria and KADN in Lafayette.
RACE FOR GOVERNOR
Governor John Bel Edwards previously announced his endorsement of Dr. Wilson. Majority Leader Steve Scalise announced his endorsement for Landry. State Rep. Richard Nelson, who initially vied for Louisiana's gubernatorial seat, has withdrawn from the race and endorsed Landry. The Times-Picayune endorsed Waguespack.
Additional candidates on the ballot include Independent Hunter Lundy, Republican Sharon Hewitt, and Republican John Schroder.
The primary election will be held on Saturday, Oct. 14.
Copyright 2023 KNOE. All rights reserved.