'That's something to celebrate,' Arkansas couple celebrating 84 years together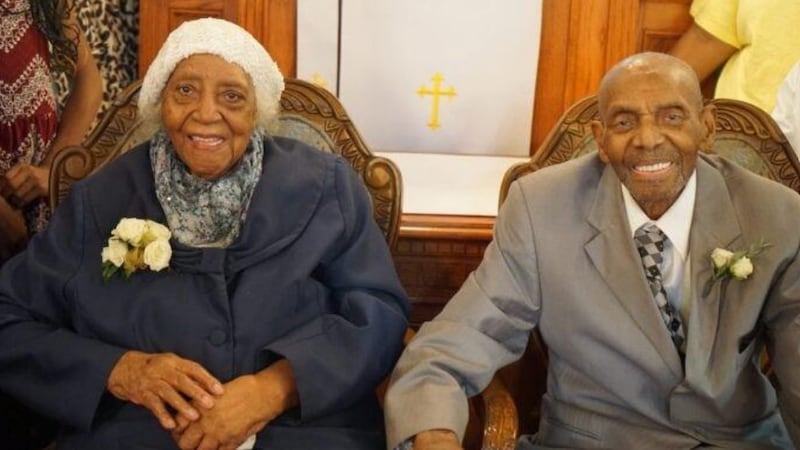 Published: Sep. 21, 2023 at 10:14 AM CDT
WHITE HALL, Ark. (KAIT) - On a rainy night in 1939, 13-year-old Arwilda and 17-year-old Cleovis Whiteside said, "I do."
On Sunday, Sept. 24, the White Hall couple will celebrate their 84 years together as Arkansas's Longest-Married Couple.
"Based on information we've gathered, we believe Cleovis and Arwilda Whiteside actually could be the longest-married couple in the entire United States," said Family Council Executive Director Jerry Cox. "That's something to celebrate."
According to a news release from Family Council in Little Rock, the couple's story began when they were still youngsters.
Arwilda, now 98, and her friend Caroline were walking home from school when some boys began to chase them. Caroline told Arwilda to run to Cleovis, who is now 102, because he would protect them.
He did.
A few years later, at a church box supper, Cleovis paid 25 cents for the box supper Arwilda had prepared.
At the time, Caroline reportedly told Arwilda, "One day, Cleovis will be your husband."
That premonition came true on July 24, 1939.
"It rained so hard on that day that only his parents, her family, his best friend, Detroit, and the minister who trudged through the rain with his horse and buggy, were able to attend," the news release stated. "The minister arrived at 11 p.m. that night to finally marry them at 11:30 p.m., just before midnight."
The couple will be honored in a celebration at their daughter's church, International House of Praise Church in Pine Bluff, at 4 p.m. Sunday, Sept. 24.
Copyright 2023 KAIT. All rights reserved.