NOAA Releases 2023 Atlantic Hurricane Season Outlook
NOAA is forecasting a range of 12 to 17 total named storms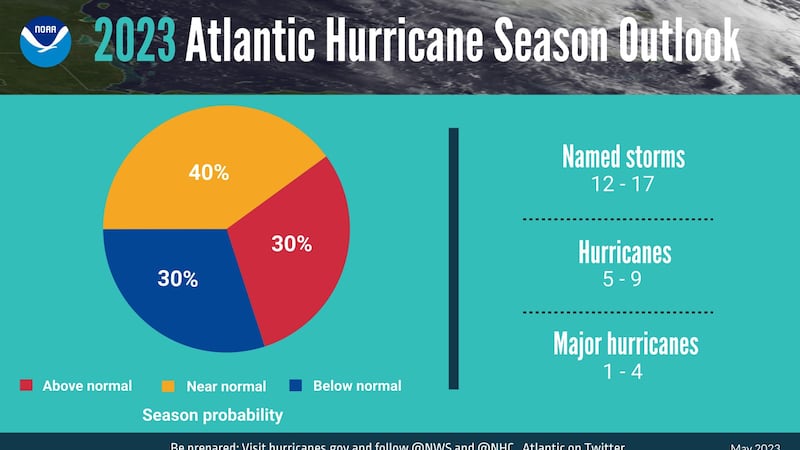 Published: May. 25, 2023 at 3:56 PM CDT
|
Updated: May. 26, 2023 at 5:23 AM CDT
MONROE, La. (KNOE) - The National Oceanic and Atmospheric Administration just issued it's 2023 Atlantic Hurricane Season Outlook. It calls for a near normal Atlantic hurricane season.
NOAA's outlook for the 2023 Atlantic hurricane season, which goes from June 1 to November 30, predicts a 40% chance of a near-normal season, a 30% chance of an above-normal season and a 30% chance of a below-normal season.
NOAA is forecasting a range of 12 to 17 total named storms (winds of 39 mph or higher). Of those, 5 to 9 could become hurricanes (winds of 74 mph or higher), including 1 to 4 major hurricanes (category 3, 4 or 5; with winds of 111 mph or higher).
The upcoming Atlantic hurricane season is expected to be less active than recent years, due to competing factors — some that suppress storm development, such as an El Nino being in place this season, and some that fuel it, such as warm sea surface temperatures — driving this year's overall forecast for a near-normal season.
Copyright 2023 KNOE. All rights reserved.