LaSalle Parish residents voice concerns over proposal for 4-day school week
Published: Mar. 23, 2023 at 10:17 PM CDT
JENA, La. (KNOE) - LaSalle Parish schools are almost done receiving feedback from the community about a possible 4-day school week calendar for the 2023-2024 school year.
If the proposal becomes approved by the LaSalle Parish School System, some residents believe it would cause a barrier to academics and home life by removing the current 5-day school week calendar.
A survey went out online earlier in March 2023 for the community to provide feedback about the proposal. Billy Fowler, a former coach of LaSalle Parish schools, says he believes shortening the week would cause students to lose their focus in the classrooms.
"Because in four, they have their mind on what they're going to be doing on those days off, and they may not be paying attention to what's being taught," says Fowler.
The school system's district calendar proposal shows students would not have to attend school for 36 Mondays. Those Mondays include non-school days and holidays.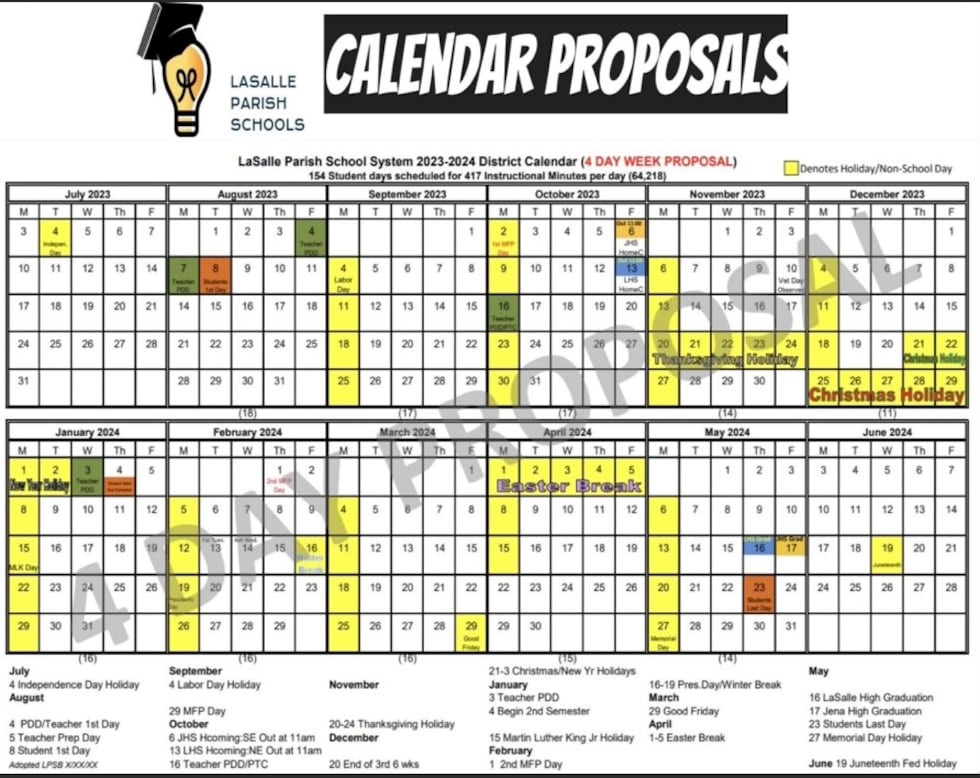 Fowler says, as a former coach, he doesn't believe the proposed 4-day school week would hinder athletic programs, but his main concern is the students' academic progress.
"But that's another point. We get more time for athletics and less time for academics. Why do we go to school? It's to learn. And get prepared to enter this old wicked world that we live in," Fowler says.
Lauren Purvis, a resident who has children in the school system, says implementing the proposal would place a burden on parents who are unable to easily seek child care while they work long hours during the week. Purvis says she thinks it's going to be a little harder for single-working parents because of daycare arrangements and 'Monday-Friday' work schedules.
LaSalle Parish schools will close the online community survey on Friday. KNOE reached out to the school system for input on the proposal and online survey on March 23, 2023, but they were not available to provide comments.
Copyright 2023 KNOE. All rights reserved.