Woman accused of posing as a dermatologist in Oakdale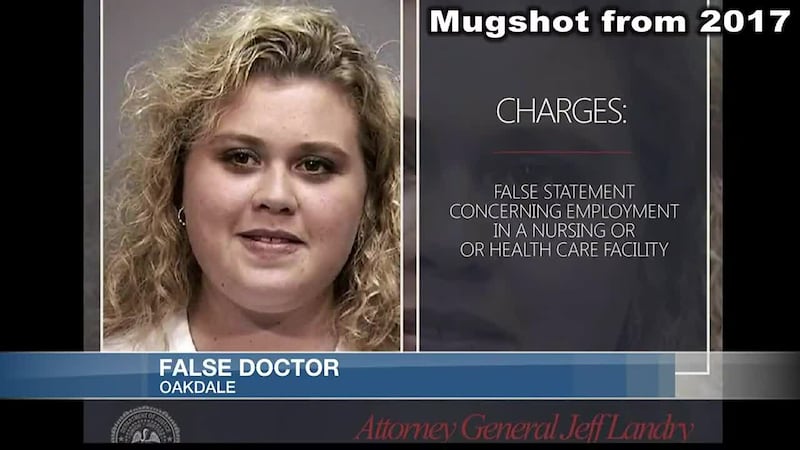 Published: Jan. 6, 2023 at 9:48 AM CST
|
Updated: Jan. 6, 2023 at 4:20 PM CST
Oakdale, LA (KPLC) - A woman apparently known by numerous aliases has been arrested after being accused of posing as a dermatologist in Oakdale whose list of patients even included minors, according to the Allen Parish Sheriff's Office.
The sheriff's office says deputies began to investigate reports of someone posing as a doctor in the area during the months of November and December of 2022 after receiving tips that Erica Giles had opened up a practice and was offering services she was not licensed to perform.
Upon investigation, detectives say they discovered that Giles was displaying a post-secondary education diploma from Northwestern State University saying she was a Doctor of Dermatology. Detectives say that this diploma was not only a forgery, and that she did not graduate from Northwestern, but that the University does not even offer such a program.
When interviewing individuals who used Giles' services, detectives said the victims had made payments to her in excess of $1,000 per patient.
After receiving a search warrant for Giles, deputies say they were able to recover the fictitious degree, as well as other falsified documentation.
Giles was arrested and booked into the Allen Parish Jail for theft by fraud and possession of a fraudulent post-secondary education degree. Her bond has been set at $6,000.
But this isn't the first time Giles has been arrested. According to the Rapides Parish Clerk of Court's office, since 2003 Giles has been jailed under several different names in that area including Erica Giles, Erica Shackleford, and Erica Benoit. And the Allen Parish Sheriff's Office says she's also used the names Brownlee, BeHevy, Lamkin, and Deters.
In Rapides Parish, she pled guilty to charges throughout 2003 including unauthorized use of a moveable, identity theft, theft under $300, and simple arson. In all cases, the jail sentence was suspended.
Then in 2016, she was again arrested again in Rapides Parish pleading guilty to making false statements regarding employment in a nursing home or health care facility.
The Allen Parish Sheriff's Office is asking anyone who may have been a patient of Giles or have any information regarding this case to contact them at 337-639-4353.
Copyright 2023 KPLC. All rights reserved.