Jackson Parish residents sifting through destruction, debris following Hurricane Laura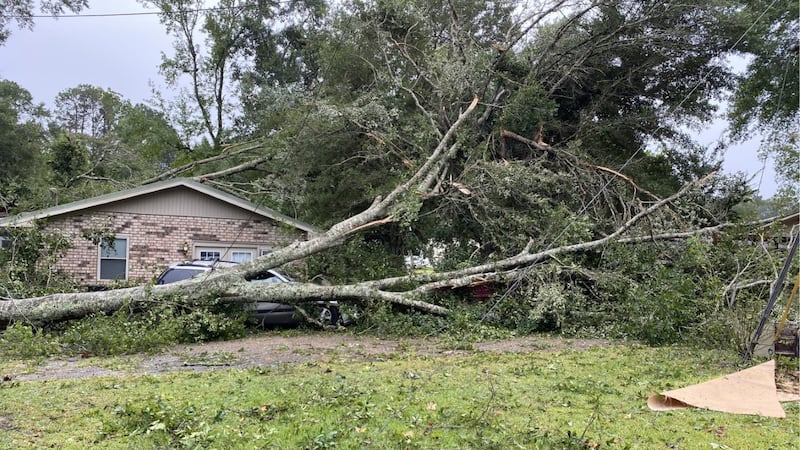 Published: Aug. 27, 2020 at 9:04 PM CDT
JACKSON PARISH, La. (KNOE) - Hurricane Laura didn't spare much of Northeast Louisiana on Thursday and Jackson Parish was no exception.
According to the Office of Emergency Preparedness Director Mark Treadway, a 51-year-old man died after a tree fell on his home.
Thousands of others are without power and some parts of the Parish have limited water supply.
"For this area to be without electricity and water is very very new territory for us," Treadway said.
Treadway said Entergy Officials claim it could be anywhere from three to five days or a week before power is restored.
One man and his family were nearly hit by fallen trees as they sat in their living room.
"We're just thankful we're here to tell about it," said Ralph Walker.
Walker, his daughter, her husband, and her two children were at his daughter's home in Hodge when multiple trees fell on and around the house.
Waker said everyone walked out unscathed. He has lived in a Jackson Parish for several years and said this storm was unlike any other.
"I've never in my life witnessed this not this bad," Walker said.
Treadway said he had to reach out to the Governor's Office of Homeland Security and Emergency Preparedness to request a large power generator for Jackson Parish Hospital.
Despite the debris and destruction, Treadway said the people of Jackson Parish made it all worth it and brought some positivity.
"It was scary but the overwhelming support of this community when something like this happened they pulled together and helped one another," Treadway said.
Copyright 2020 KNOE. All rights reserved.